Troubleshooting Waterproof Bluetooth Speaker Connection Issues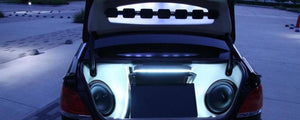 How does Wireless Bluetooth speaker work? A waterproof Bluetooth speaker uses radio waves instead of wires or cables to connect with your device, whether it be a smartphone, computer, or tablet. Minimizing the need for wires, Bluetooth technology allows one to connect to multiple devices at the same time. (If you are suffering from connecting connecting your waterproof bluetooth speaker to the Alexa, the linked article would help you to solve the issue.)
You can also find useful information from the FAQs about waterproof Bluetooth speakers. For this article, the focus is more for the waterproof Bluetooth speaker connection issues.
As the most widely used wireless technology in the world, we can always expect a connection issue to arise now and then with Bluetooth-enabled devices. Here are some great tips for the best ways to troubleshoot your connection issues. 
1. Turn Your Waterproof Bluetooth Speaker Off and On
As frustrating as a connection issue with your waterproof portable Bluetooth speaker can be, sometimes the steps needed to fix it can be as quick as the speed in which the problem arose in the first place. Try a simple reset by powering your device off and back on. If you're using your smartphone, something as simple as putting your phone in and out of airplane mode may be enough to do the trick.
2. Turn Waterproof Bluetooth Speaker Discovery Mode On
It sounds like a no-brainer, but one of the first steps you will need to take turns your portable waterproof speaker discovery mode on. If you are using a smartphone, go into your phone's settings and click the Bluetooth option, which should make the devices visible to one another. Once the devices have found one another, you should be able to pair the devices and enjoy your music instantaneously.
3. Ensure Your Waterproof Bluetooth Speaker is Fully Charged 
If your battery level is too low, this could interfere with your enjoyment of your waterproof portable Bluetooth speaker. Some devices operate on smart power management that can turn your Bluetooth off if your battery level is too low, to save you power in the long run. Fully charging your devices is a sure-fire way to minimize issues. 
4. Ensure Waterproof Portable Bluetooth Speaker Is Close
If you are experiencing connection issues with your portable waterproof Bluetooth speaker you may need to ensure that the two devices are close enough in proximity to one another. This is especially true for portable speakers, as they will often be carried around during one's events and may have been moved out of range from the paired device.
5. Avoid Interference 
You may need to have a look at your surroundings to identify any potential barriers to successful pairing. These can include Wi-Fi routers, electronic cables, and even garage door openers as they use the same radio frequencies as your Bluetooth device. Ideally, you will avoid interference from other devices as much as possible, and certainly do not keep your device directly above your Wi-Fi router. 
The Best Waterproof Portable Bluetooth Speakers Are Easy To Pair
The DOSS Traveler is the perfect device to reduce your worry over connection issues with your waterproof portable speaker. With its high compatibility, outdoor-goers can connect with smart devices from up to 33 feet away. It also comes supplied with an audio cable, as well as a Micro SD, giving you an endless amount of opportunity depending on your outdoor needs. 
Say goodbye to your Bluetooth connection issues – visit our product page and order your brand new DOSS Traveler today.