4 Things To Look For In The Best Waterproof Bluetooth Speaker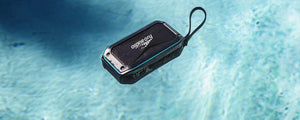 A Waterproof Portable Bluetooth Speaker is one that will not be adversely affected by contact with water and can withstand water contact without becoming damaged. By utilizing this safety feature, you can take your music with you to all manner of outdoor events, including picnics, beaches, swimming pools, lakes, and more. It would be a great idea to bring your waterproof Bluetooth speaker to your pool party.
Furthermore, the Waterproof Bluetooth Speaker comes equipped with voice assistants such as Alexa. For those of us who aren't in a position to purchase a separate speaker system for a variety of different occasions, the versatility of the portable waterproof speaker means it is a must-have a one-size-fits-all product.
How to choose a Waterproof Bluetooth Speaker
1. Weight of Waterproof Bluetooth Speaker
As you will want your speaker to be as portable as possible, the weight will undoubtedly be an integral part of your decision when looking for the best Waterproof Bluetooth Speaker. Some portable speakers can be as heavy as 6.61 pounds (or over 3kg) which can be less than ideal for the average outdoor-goer.
Fortunately, all of the waterproof portable Bluetooth speakers in the Doss Audio range are as light as possible to enable you to enjoy the outdoors, with our heaviest speaker weighing in at 1.52 lbs.
2. Battery Life of Waterproof Bluetooth Speaker
If you're going to be listening to your music in an outdoor setting, whether it be a party, picnic, or swimming event, you will want your waterproof Bluetooth speaker's battery life to extend for as long as possible.
3. Sound Driver of Waterproof Bluetooth Speaker
Sound quality will be paramount for your portable waterproof speaker if it is to do a good job of entertaining you, your friends and your family while enjoying your long walks and trips to the beach. You will want a high-performance driver for this purpose so that you can deliver powerful music to your outdoor setting.
4. Additional Features of Waterproof Bluetooth Speaker (AUX, SD Card, Amazon Alexa, etc.)
The more additional features you can add to your portable waterproof Bluetooth speaker the better. For example, having an AUX-in cable, being able to charge your device over USB, and being able to use the Alexa voice assistant will be beneficial to the individual depending on his or her circumstances as it will allow you to enjoy your music without constraints.
If you still have some questions when you choose your waterproof Bluetooth speaker, you definitely could find out useful information from the FAQs about waterproof bluetooth speaker. 
Introducing the Best Waterproof Bluetooth Speaker Options
a. DOSS Genie
The DOSS Genie is light at 033 lbs, meaning it is a great travel companion that can be carried in your backpack, handbag, or even just in your hand. Compatible with Bluetooth, as well as AUX-in and TF, you can use this device to enjoy your music with crystal clear sound. It is the perfect combination of the top features explained above, giving you the highest quality music experience wherever you go.
b. DOSS E-Go
The DOSS E-Go is a highly compatible device, including Bluetooth, a 3.5mm AUX cable, TF card as well as the Amazon Echo Dot. Its lightweight nature means it can be carried in your bag or even hooked on to your belt. Its 12W stereo driver delivers the highest quality sound with enhanced bass, tight mids, and crystal clear highs with no distortion. The opportunities are endless with the DOSS E-Go.
c. DOSS Traveler
Equipped with two 10W high-performance drivers and dual passive subwoofers, the DOSS Traveler delivers powerful music to you while you enjoy your outdoor experience. Its high compatibility enables you to connect it with your smart devices from up to 33 feet away, making it the perfect companion for your travels. With up to 12 hours of continuous listening, the 48-hour rechargeable flashlight will allow you to have enough light to record your adventures along the way.