First Mother's Day Gift Guide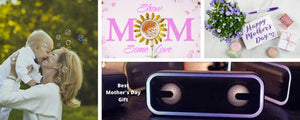 Why Is Mother's Day Important?
From a psychological perspective, the importance of Mother's Day cannot be understated. From day one, your mother was tasked with looking out for your best interests even while you were still an infant inside her womb. In fact, scientists are able to find a direct link between a mother's emotional state during pregnancy and our base personalities, even as adults.
Scientists have also studied how we connect with the world and how this connection is linked to the connection we share with our mothers. Scientists believe that children who were loved, nurtured and encouraged in stable surroundings grow up to be healthy and mentally and emotionally stable. Likewise, children who miss out on that crucial love and affection and find themselves subject to a highly stressful living environment are more likely to grow up to be anxious and struggle to develop meaningful relationships.
Therefore, Mother's Day is the perfect excuse for you to not only show appreciation for your mother's love and care but to explore the psychological impact your bond with your mom has had on your health and well-being. It also allows you to grow even closer as a family and celebrate your family unit together. since your mother is such an integral and essential ingredient of the family.
The Perfect Gift for Mother's Day
If your mom is an adventurer with an active lifestyle, always enjoying the great outdoors, then look no further than a rugged and water-resistant portable Bluetooth Speaker for a meaningful Mother's Day gift this year.
The Doss Soundbox Plus portable Bluetooth Speaker lets your mom listen to her tunes while doing her favorite outdoor activities, from doing yoga in the backyard to playing volleyball on the beach. The Doss Soundbox Plus offers rich bass and is rugged with a rubber housing and waterproof design so that your mom can safely use it by the pool or place it in the sand at the beach.
Key Features of the Doss Soundbox Plus:
The Doss Soundbox Plus can bring your mom's active lifestyle to the next level, as it comes complete with powerful and immersive sound powered by dual 8W full-range drivers and enhanced bass. This state-of-the-art speaker also has multiple modes and its built-in rechargeable battery gives you at least 20 hours of non-stop playtime so that your mom can enjoy her active lifestyle to the fullest extent.