Choosing A Great Waterproof Portable Bluetooth Speaker For Your Pool Party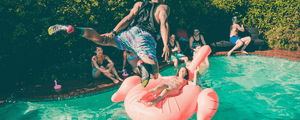 Your Portable Bluetooth Speaker needs to be waterproof if you are to truly appreciate and enjoy your outdoor experience. A waterproof portable Bluetooth speaker will not be adversely affected by contact with water and can even withstand water contact without becoming damaged. This means you can take your pool party to the next level without fear of your Waterproof Bluetooth Speaker becoming damaged and disappointing your guests.
The Waterproof Bluetooth Speaker Features To Look For When Hosting a Pool Party
1. The Sound Quality of Waterproof Bluetooth Speaker
There are four ways you can measure the sound quality of your waterproof portable Bluetooth speaker without physically going to the shop and asking for a demonstration. The first way is to look at the output power, which is measured in Watts. A device that uses at least 15 watts should be enough to provide you with a volume high enough to listen to your music in the outdoors. The other ways you can measure sound quality is examining the range of frequencies, the type of sound system used as well as the impedance.
An ideal sound range is between 20 Hz to 20,000 Hz in order for it to deliver the sound range capable of being heard by the human ear. The type of sound system you will want your device to have is 2.0 or 2.1, which is of higher quality. Finally, when measuring the impedance, simply remember that the lower the impedance, the better quality sound you can expect to receive.
2. Bluetooth Speaker with Waterproof Feature
 If you are hosting a pool party, it is almost imperative that you obtain an outdoor Bluetooth speaker that can withstand water damage and any initial contact with water. No matter how careful you are, your waterproof portable Bluetooth speaker is always likely to have some contact with water in such an environment.
 Have a look at the reviews of your intended product to see how durable the product has been in the past, and whether or not it will stand the test of time for your pool party experience. 
One thing you need to keep in minds is the differences between waterproof Bluetooth speaker and water-resistant Bluetooth speaker. They are different and be cautious when you bring the speaker only with water-resistance.
3. Waterproof Bluetooth Speaker's Battery-operated and battery life
 Being able to enjoy your pool party will require your Bluetooth speaker to be battery-powered and to allow a longer period of playtime with a single charge. Charge-times can vary among products, and you would ideally want a wireless speaker that can deliver up to at least 10 hours' playtime for you to maximize your experience.
4. The Wireless/Bluetooth of Waterproof Bluetooth Speaker
The best way to deliver a memorable experience for your pool party is to ensure your device has Bluetooth capabilities. To avoid immediate disappointment, it may be useful to purchase a Bluetooth speaker which also comes with an aux-in cable.
5. Easy to Connect with Your Devices
To avoid compatibility issues beforehand, ensure your sending device is easy to pair and compatible with the Bluetooth version of the speaker which you are purchasing.
6. Additional Features of Waterproof Bluetooth Speaker
As your pool party is likely to take place in the outdoors, you will want to turn your mind to the additional features which will be beneficial to your outdoor experience, such as the ability to light up. Portability, durability, and whether or not it is Alexa-compatible will also all come into play when choosing your waterproof Bluetooth speaker this summer. 
If you still can't make a final decision when choosing your waterproof Bluetooth speaker, you can only look for 4 major things for choosing the best waterproof Bluetooth speakers.
The DOSS range of waterproof Bluetooth speakers is ideal for your pool party experience this summer. With high-performance drivers and dual passive subwoofers, a Bluetooth range of 33 feet and high-powered battery life, the DOSS range of waterproof Bluetooth speakers allows you to impress your pool party guests with continuous music for up to 12 hours.