The Perfect Wireless Bluetooth Speaker For Your Graduate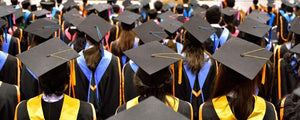 A wireless Bluetooth speaker is a great surprise for any and every occasion. As graduation season edges closer upon us, both college and high school students are about to move on to the next stage of their life whether it be work, further study, or other living arrangements – all on a tight budget.
Show you are a proud parent, sibling, friend, or partner and congratulate the graduates in your circle with a best wireless Bluetooth speaker this graduation season. 
1. Best Wireless Bluetooth Speaker for High School Graduates
As young graduates transition from the high school environment to college dorms, a small wireless Bluetooth speaker which takes a minimal room in their dorm room or even their backpack will be the perfect graduation gift this year.
The Doss wireless Bluetooth speaker SoundBox is a compact, waterproof wireless Bluetooth speaker that fits right in the palm of your hand. Weighing in at 1.23 lbs this miniature speaker can provide high-quality sound for up to 12 hours' continuous playtime – a great gift for any high school graduate.
2. Best Wireless Bluetooth Speaker for College Graduates
As college graduates tend to be moving on to bigger and better things and may have to start traveling and commuting more often, a compact, durable, and waterproof wireless Bluetooth speaker will be an ideal gift. The Doss Traveler will provide any college graduate with wireless freedom for them to travel and listen to their music for up to 12 hours' playtime. With an IPX6 rating, this product is highly durable so college graduates can enjoy their remaining days of summer on the beach while looking for a job and kick-starting their new careers.


Presenting the Doss Audio Range of Wireless Bluetooth Speakers
The Doss Audio range of wireless Bluetooth speakers can provide you with the speaker to deliver high-quality sound to your graduation party this year. Even if your graduation party involves your social distancing, don't forget that you can still enjoy a party with your friends and family over video chat software and other social media platforms. Impress your peers with a brand new Doss Audio wireless Bluetooth speaker today.