7 Stay At Home Fun Things To Do During The Coronavirus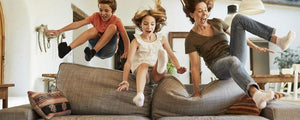 There are plenty of fun activities to do during the coronavirus (COVID-19) lockdown. To keep you and your family entertained and cheerful, we have come up with a list of stay-at-home fun activities for you to try during this period of self-isolation.
1. Playing Games (online and offline)
In the modern age, people tend to forget that board games can provide a unique opportunity for your family to bond and compete with each other in a safe environment. If board games don't cut it for your family, there are plenty of online games you can play which still provide you with that interactive component you are looking for while staying at home.
2. Learn Something New
Self-isolation is a great opportunity for you to learn that one thing you have been putting off for years. Whether it be a new dance move, the song lyrics you have been singing incorrectly, origami, calligraphy or a new language, you can be sure to find plenty of free tutorials on YouTube to assist you.
3. Get Creative (write, art, build something)
There is no better time to write than now, whether it be a blog, short story or a novel. If writing isn't your cup of tea, you could paint or draw a picture instead. If you would prefer to use your hands more directly, you can also build something which provides structural or aesthetic value to your home (or you could even build something using Legos). The opportunities here are endless.
4. Backyard Parties
Depending on the rules of your state or country, there should be nothing preventing you from having a small party in your backyard putting your outdoor bluetooth speakers to good use. You will still be required to keep your distance from your friends and neighbours, but if you all jump online at the same time perhaps you can keep the party spirit going virtually instead.
5. Try Pinterest Projects
If you haven't already, now might be the perfect time to reproduce a project you saw on Pinterest but never got round to completing.
6. Have Sing & Dance Parties
Whether online or offline, you can have plenty of stay-at-home fun with a sing and dance party. YouTube has an endless supply of music videos and dance-tutorial videos to keep you busy for hours on end.
7. Virtual Tours & Concerts
If you jump online you will be able to view and learn about famed museums, historic sites and theme parks all from the comfort of your living room. If you would prefer to avoid your own living room, you can venture to singer John Legend's living room instead to watch him sing some of his most popular songs live on social media.
DOSS Brings You the Sound During Coronavirus
To get you through the coronavirus crisis happy, healthy and entertained, we recommend the DOSS Soundbox Pro+ and the DOSS Soundbox XL. With advanced technology and reliable amplifiers, powerful and immersive sound and up to 15 hours' playtime these speakers will enable you to try every activity on our list above while maximizing your stay-at-home enjoyment.