Best Portable Bluetooth Speakers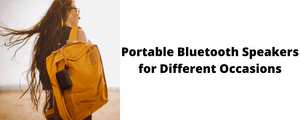 The Benefits of Having a Portable Bluetooth Speaker
There are innumerable benefits to purchasing a portable bluetooth speaker, which can be used in almost any location while providing excellent sound quality as an accompaniment to activities such as socialising, camping or working out.
1. High Quality Music On the Go
Portability is of course the main advantage of such speakers, making it a simple matter to turn music into a social experience and share it with others regardless of where you are. Another advantage of a portable bluetooth speaker is that it uses very little power consumption, which means that they will last longer when away from an immediate power source.
A portable bluetooth speaker also tends to be very small and lightweight for the most part, which makes them even easier to carry around, yet are still able to provide sound that is both very loud and of superb quality.
2. Easy Installation
Another big advantage of a portable bluetooth speaker is that it comes with no installation requirements and there is no human action needed to be taken for it to connect with a source device.
3. Affordability 
Portable Bluetooth speakers are also usually not very expensive to buy, meaning that even people on a small budget will be able to find a model that is suitable and affordable for them.

Portable Bluetooth Speakers for Different Occasions?
There are many possible applications for a portable bluetooth speaker. A portable Bluetooth speaker can be used to bring music to events and occasions such as an outdoor party or a camping trip. It can also be used to provide entertainment while in the process of traveling or even as a speaker for a home stereo system.

1. Using A Portable Bluetooth Speaker When Camping
There are many different reasons why people choose to go camping. These reasons include wanting to get away from modern technology and be closer to the natural world or to revitalise relationships by removing other distractions.
Whatever the reason for going on a camping trip, being able to listen to favorite songs in high quality sound can make the experience even more enjoyable. The DOSS Traveler Outdoor Bluetooth Speaker is the ideal choice for a portable bluetooth speaker to take on a camping trip, providing advanced and innovative technology to offer beautiful music wirelessly from anywhere.

2. Using A Portable Bluetooth Speaker When Traveling
Whether you are going on a road trip, a cruise or an airline, a portable bluetooth speaker can be taken along to provide high quality musical entertainment during your travels. Most portable Bluetooth speakers are so small that they can even be taken on airplanes as hand luggage, allowing them to be made use of during the actual flight.
The best choice for a portable bluetooth speaker that you intend to make use of while traveling is undoubtedly the E-Go Waterproof Bluetooth Speaker. This revolutionary upgrade of the original DOSS E-Go is the first outdoor Bluetooth speaker to be fully Alexa-enabled, allowing it to respond to any voice commands via its built-in microphone.
The DOSS E-Go offers superb stereo sound for any music being streamed and comes with a water-resistant feature that makes it the ideal portable Bluetooth speaker to go traveling with.

3. Using A Portable Bluetooth Speaker For A Party
A portable bluetooth speaker can help bring the joy of music to an exterior party. The DOSS Soundbox Pro not only allows for the delivery of superb stereo sound while outside but also has the ability to offer an entertaining light show to add further atmosphere to any celebration.

4. Using A Portable Bluetooth Speaker For Your Home Stereo
Many people simply do not have space to have a subwoofer in their home stereo system, but would still like it to deliver a higher bass level. The use of the portable bluetooth speaker known as the DOSS Soundbox XL will solve this problem, offering stunning performance and bass from a small and convenient size.
The Best Portable Bluetooth Speakers for Indoor Use
Although portability is one of the big selling points of Bluetooth speakers, the fact remains that many people still make use of them indoors and in their own homes. But what Bluetooth speakers are best for indoor use?
1. The DOSS SoundBox
The DOSS SoundBox is certainly the portable bluetooth speaker that most music fans would choose for indoor use. The SoundBox is highly recommended for outdoor use but is just as effective when used indoors thanks to its delivery of full sound that comes complete with much deeper bass.
Sensitive touch control also means that it is simple to switch between the Aux-In, Bluetooth and Micro SD options provided.
2. The DOSS SoundBox XL
The DOSS SoundBox XL delivers subwoofer-level bass in a compact system that will fit in any indoor space, no matter how cramped. On the flipside, even if in a much bigger room the Bluetooth speaker is able to saturate that space with perfect sound at an amazing volume.
The DOSS SoundBox XL provides several different modes, with the Bluetooth 4.0 technology providing a stable connection from long distances and compatible with any music source that is Bluetooth-enabled such as the Echo Dot, TF card and auxiliary line-in.
The Best Portable Bluetooth Speakers for Outdoor Use
Being used outdoors is still the primary function for the great majority of Bluetooth speakers and the main reason for their portability, but what portable bluetooth speakers actually work the best for this purpose?
1. The DOSS E-go II
One of the best portable bluetooth speakers for outdoor use is the DOSS E-go II, which is portable enough to be able to fit into backpacks, hooked to belts or bags or even just carried around by hand without any difficulty or awkwardness.
The portable bluetooth speaker offers extended playtime of up to twelve hours and comes with a special fabric design that offers protection from dust, sand and water, making it an ideal accompaniment to outdoor activities.
2. The DOSS Traveler
The superior durability provided makes the DOSS Traveler another ideal portable bluetooth speaker for use outdoors. Not only is the DOSS Traveler capable of resisting water and dust it can even cope with water coming from waves and pressurized jets.
The portable bluetooth speaker is particularly suitable for outdoor use because it comes with a long strap and a short, flexible hand.
With playtime of 12 hours and sound that remains crisp and clear regardless of the volume level, the DOSS Traveler is an ideal choice.