Best Wireless Bluetooth Speakers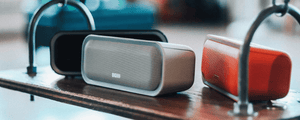 What should you look for before buying a wireless bluetooth speaker? We want to help with your search and make sure you find exactly what you're looking for.
Features of Wireless Bluetooth Speaker You Should Consider
1. Battery Life of the Wireless Bluetooth Speaker
Is there anything more frustrating than trying to listen to music when your Doss wireless Bluetooth speaker has no battery left? When looking for any kind of wireless Bluetooth speaker, make sure to check out how long the battery lasts and compare it to how long the battery lasts in other speakers.
The Doss wireless Bluetooth speaker, for example, has a long battery life of about 12 hours. Enough to listen to your favorite album and maybe even get some time in with your favorite podcast!
2. SOUND QUALITY 
OF THE WIRELESS BLUETOOTH SPEAKER
Everyone wants their wireless Bluetooth speaker to have crystal clear sound; that's a given. There's, even more, to look out for. When looking at speakers, make sure to look at the specs for the sound. Most of the newer models come with stereo, but a few offer a subwoofer to help with the bass.
With less than 1% harmonic distortion and a 360-degree concept of sound, the wireless Bluetooth speaker has everything that's needed to impress friends and family at get-togethers.
3. WIRELESS BLUETOOTH SPEAKER DESIGN
Great design is timeless. Trends come and go. Does anyone remember the bulky speakers that were popular in the 1980s? For the time, they were great. However, as time went on, technology changed. Now, wireless Bluetooth speaker can be portable, making it convenient for people to listen to podcasts, music, or audiobooks wherever they want.
The sleek design of the Doss wireless Bluetooth speaker makes it a lovely addition wherever you want to put it. Whether it's in your living room or hidden in a hallway, the sound will never be affected because we have designed it not to be.
4. IS THE WIRELESS BLUETOOTH SPEAKER WATERPROOF
Nobody wants to worry about their wireless Bluetooth speaker being damaged during a pool party. So, when you're looking for a wireless Bluetooth speaker, make sure it can get splashed on without interfering with the sound.
That was something we thought of when we designed our Doss wireless Bluetooth speaker. We worked on making it waterproof for you!
5. YOUR NEEDS FOR THE WIRELESS BLUETOOTH SPEAKER
Will your new wireless Bluetooth speaker be used for outdoor activities or will it be used indoors? Knowing where it will be used most often will help you decide what features are needed. An wireless speaker will need no less than 85 decibels of power.
6. Durability of a Wireless Speaker
One of the most important factors that buyers from the wireless range need to think about before purchasing a wireless Bluetooth speaker is how durable it is.
The Ingress Protection (IP) scale measures the resistance to water and dust of an electronic device, and an IPX4 rating is really the minimum rating buyers should look for in a device before considering paying good money for it.
This rating means that a speaker will be protected from water splashes and dust particles bigger than one millimetre.
Even though DOSS wireless bluetooth speaker is one the most durable wireless speaker in the market, you still needs maintain your wireless bluetooth speaker to keep is have a outstanding outputs all the time. 
7. Wireless Range for a Wireless Bluetooth Speaker
The radio's power class will determine the actual range of a wireless bluetooth speaker. This range can be extremely varied and will also differ depending on the nature of the operating environment. 
For example, 100 metres is the approximate range of a Class 1 radio, but that range will be dependent on how many walls lie between the speaker and the Bluetooth source, as well the nature of the materials within those walls. 
An example of this is that masonry is much more difficult for radio waves to go through than drywall, and the range can also be reduced by objects that may lie in the path of the signal, including the likes of large metal appliances.
8. Size and Weight of a Wireless Bluetooth Speaker
The size and weight of the wireless bluetooth speaker you choose to purchase is also important. 
One of the main benefits of buying a wireless bluetooth speaker is being able to take it with you wherever you go, with the great majority of such speakers weighing less than three pounds and being below eight inches in height. Many speakers in the wireless range can be easily carried in bags or even in coat pockets. 
Different Types of Wireless Bluetooth Speakers
Wireless speakers are ubiquitous in this day and age, and the amount of choice can often feel overwhelming. There are numerous different types of wireless speakers that are available in a variety of different shapes and sizes.
1. Wireless Bluetooth Speaker For Your Home Stereo
When it comes to those looking to purchase the best wireless bluetooth speaker for home stereo purposes, the DOSS Soundbox XL would be an excellent choice. The kind of bass that is normally only able to be produced by a "real" subwoofer is one of the main attractions of this speaker. The small size is another major advantage, able to fit in almost any space, while producing clear, deep and loud sound with dynamic performance and thunderous bass. The speaker is capable of delivering up to ten hours of playtime, while offering multiple modes.
2. Wireless Bluetooth Speaker For Your Camping Trip
The DOSS Traveler is the ideal choice for those wanting to still be able to enjoy their favourite music while away from home. This strong and attractive soundbox comes with advanced and innovative technology that makes it ideal to take on a camping trip, offering great music and wireless freedom at any time and place. The DOSS Traveler is able to provide powerful music even in the wild thanks to the presence of dual passive subwoofers in addition to two 10W high performance drivers, and comes complete with high compatibility and extended playtime.
3. The Best Wireless Bluetooth Speaker for Surfing and Beach Activities
For those who want to listen to great sounding music while surfing or engaging in other activities on the beach, one of the very best options for a wireless bluetooth speakeris the Doss E-go II.
The Doss E-go II offers great bass performance and strong sounds, providing a long-lasting battery, outstanding performance and great portability to ensure the listener of a music experience of very high quality.
Immersive sound is delivered by dual full-range drivers that ensure the music delivered sounds balanced and full with bass, incredibly clear highs and tight mids.
Waterproof and incredibly durable, the Doss E-go II is the go-to wireless Bluetooth speaker for all surfing and beach activities.
4. Wireless Bluetooth Speaker For Your Party
The DOSS Soundbox Pro is the perfect wireless Bluetooth speaker for those who want to be able to party, anytime and anywhere. This is a portable speaker that provides a panel filled with beat-driven lights that will flash along to music that can be streamed from practically any kind of device. This will be a very comfortable purchase for most people thanks to its simple pairing and excellent quality sound, offering stereo sound and an entertaining light show.
5. The Best Wireless Bluetooth Speaker for Your Outdoor Party
For those who want great music to liven up their outdoor party, the SoundBox Plus is easily currently the best wireless bluetooth speaker for the job.
An upgrade of the original SoundBox, the SoundBox Plus comes with full range dual 8W drivers in addition to a passive radiator that combine to provide amazing sound and enhanced bass.
If two of those speakers are paired together, the color changing and beat synched lights, together with the extended play time of up to twenty hours, will take any party to the extreme.
6. Wireless Bluetooth Speaker For General Use
The E-Go Waterproof Bluetooth Speaker is a wireless Bluetooth device that can be used for any number of activities. The first ever outdoor Bluetooth speaker to be Alexa-enabled comes with a built-in microphone that will respond to voice commands while delivering superb stereo sound on streaming music. Small in size and resistant to water, the E-Go is the perfect choice for a stereo to complement all outdoor activities.
It is important to understand the various Bluetooth speaker types before you can make a choice as to which is the most suitable for you.