Introduction to Home Stereo Systems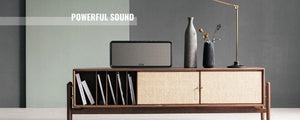 What Do You Need for a Home Stereo System?
Anyone who has tried setting up a stereo system will know that these sound systems contain more than just a pair of speakers.
Whether you want to buy a ready-to-play Home Stereo System or build your own system at home, here is a full breakdown of the steps to follow and products you will need for the best-quality sound experience in your home.
Option 1: Build Your Own Home Stereo System:
The first piece of equipment you will need is an amplifier. Amplifiers generally come in two distinct groups: standard stereo receivers and integrated receivers. A standard stereo receiver usually contains a radio tuner, a pre-amplifier, the power amplifier, and a phono pre-amplifier.
A Matched Pair of Stereo Speakers
The stereo speakers can be your best friend or your worst enemy, depending on your outlook. For some people, the speakers are the most important part, but for others, they are the least important part of the Home Stereo System. This is because speakers cannot provide you with good quality music if all of the other components are inadequate.
Audio Sources (Players, Tuners, Online music)
While not generally thought of as the most important item, source components are more important than they are given credit for. CD players are often considered the best sources of sound, but, if the quality of the CD is lacking, there won't be much you can do to fix the final product. Given CDs are considered to be outdated, it's likely you will be playing your sound of a smartphone, iPod, or some other MP3 file.
Acoustic Properties of the Room
Very few people generally think of the actual room where you are establishing your Home Stereo System as being part of the stereo system itself. However, your own experiences will tell you that the acoustic properties of the room will greatly affect the quality of the music you are listening to.
To maximize the best-quality sound possible, you and the speakers should form a triangle. Your position should be in that spot that allows you to hear the best quality music. If you need to rearrange your furniture and other fixtures in the room to enable you to reach that sweet spot, then so be it.
Option 2: Wireless Stereo Speakers – SoundBox XL
The second option is most definitely the best and only option you need to consider, as it allows us to do all the hard work for you. By purchasing the DOSS Soundbox XL, you can get a Home Stereo System all in one go without lifting a finger.
Powerful and Immersive Sound
DOSS Soundbox XL's 20W driver and DSP technology deliver crystal-clear, high-quality music. You won't need to worry about rearranging your furniture with this product, as the speaker can saturate a large room with incredible volume and un-distorted sound.
The DOSS Soundbox XL's 12W subwoofer and two passive bass radiators enhance lower frequencies and create an impactful, booming bass with minimal distortion. Delivering a well-balanced sound while producing a distinct soundstage with stereo separation, the DOSS Soundbox XL gives you musical details you have never noticed before.
The DOSS Soundbox XL is equipped with Bluetooth 4.0 technology, which provides the user with a stable connection up to 33 feet away. The DOSS Soundbox is compatible with any Bluetooth-enabled music source and also includes an auxiliary line-in, TF card, and the Echo Dot.
To order your own DOSS Soundbox XL and to take a look at our other great products, visit our website and place your order today.