How To Wear Earbuds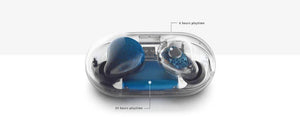 How To Wear Wireless Earbuds
Using wireless earbuds has its advantages over conventional earbuds. Because wireless earbuds connect your ears to your music via Bluetooth, you no longer have to deal with long wires that tangle and get in the way of your exercise, leisure, and downtime. The other advantage of using wireless earbuds is that it can connect to a number of types of Bluetooth-enabled devices, including tablets and smartphones.
To assist you with your easy-listening experience, we have provided you with a breakdown of the steps you need to follow in order to securely wear your wireless earbuds.
Steps to Follow:
Secure earbuds in your ears
To wear your wireless earbuds correctly, the first step you will want to follow is to secure your earbuds in your ears. It is important to note that everyone's ear canals are different, so this might explain why you have been struggling with your current and previous pairs. Just remember there is no one-size-fits-all earbud, so you may have to try different brands and styles until you find the right fit for you.
Another point worth noting is that men typically have larger ear canals than women, so men generally will need larger earbuds than women.
Place the earbuds snugly into your ear canal
The second step you will need to follow to wear your wireless earbuds is to place your earbuds snugly into your ear canal. In order for successful transmission of sound, the earbuds will need to be properly lodged in your ear canal and be in reasonably close proximity to your eardrum. You may want to try twisting your earbuds back and forth two or three times so that they lodge successfully in place.
Another tip to take note of is that properly fitting the head of the earbuds in your ear canal can also potentially block ambient sound from entering the eardrums.
Pull-on your earlobes to seal the earbuds in place
When your earbuds are loosely placed in each ear, reach up and pull down on each earlobe with your opposite hand. So, if you are securing your earbud in your right ear, you will want to lightly tug on that earlobe with your left hand. This will slightly open and enlarge the ear canal, which will, in turn, allow you to gently push the earbud farther into your ear.
Secure Your Wireless Earbuds with Doss ICON
For an easy-listening wireless earbud experience, look no further than the DOSS ICON, the truly wireless earbud with stylish-looking, built-in, advanced 5.0 Bluetooth technology. DOSS ICON's one-step pairing and flawless audio quality will give you up to 30 hours of priceless music playtime.
To order your own DOSS ICON and to take a look at our other great products, visit Official Doss Store and place your order today.